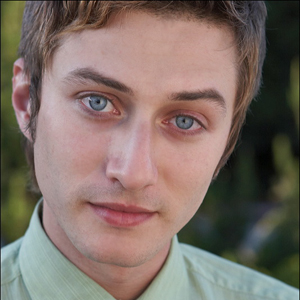 Keram Malicki-Sanchez has always been strongly entrenched in emerging media, and is the author of various blogs ( theculturepin.com, musiczeitgeist.com and Indie Game Reviewer among them) that straddle the cutting edge of the intersection of technology and the arts.  He has been invited to speak on panels throughout North America including NXNE music conference in Toronto, the National Association of Broadcasters Conference (NAB) in Las Vegas and Cinegear in Los Angeles.
While film and TV fans immediately recognize the culturally mixed (Polish-Ecuadorian) Toronto native from his roles in such films as American History X, John Q, Happy Campers and Crazy/Beautiful, and such TV shows as Buffy the Vampire Slayer, 24 and CSI, he's also devoted the greater part of his life to an incredible array of musical endeavors.
Founder of seminal Toronto act Blue Dog Pict and the Constant Change Music label, Keram's songs have been featured on various film soundtracks including Uptown Girls (Nettwerk), Happy Campers (New Line) and Broken starring Heather Graham with whom Keram co-starred in a video for his song "The Hanging Tree" (it has over 60,000 views at YouTube as of this writing). Heather Graham also sings lead vocal for the song in the film. The song became the feature track on a subsequent soundtrack that also features a variety of songs by Brian Jonestown Massacre (Fuel 2000 Records, 2008.)

On his new release Box, Keram gives voice to the long-developing acoustic side of his artistry. Recording the album came about as he and longtime collaborator Josh Joudrie were tracking vocals for a full-band supersonic rock electronica fusion project called Come To Life.  Keram decided to take the opportunity to further capture some of the acoustic material he had developed at Hollywood's popular showcase spot Hotel Cafe (alongside friends that include Cary Brothers, Joe Purdy and Jim Bianco.)  He plans to release Come To Life in summer 2011.
"Box" is a quiet contemplative album that belies the quirky cleverness of Keram's fertile imagination – sneaking broken record players, faulty echo machines and household percussion in and around the deceptively simple acoustic guitar and piano compositions.
In May 2008 he was voted best new LA artist by The Deli Magazine as well as winning the May Broadjam.com Song of the Month competition, and Broadjam's July '2008 Film Cue of the Month competition. Keram was also a featured artist at the 2008 NXNE Festival in Toronto, Canada.
Most recently, Keram appeared in Daniel Waters' Sex and Death 101 and co-stars in the Marvel Comics/Lionsgate Films picture Punisher: War Zone.
Aimee Lynn Chadwick
(Talent, podcast producer and host, writer)
Aimee Lynn Chadwick studied music and theater at the Boston Conservatory, before relocating to Los Angeles where she promptly landed featured roles in A Cinderella Story (Hilary Duff), Disney's Alice in Wonderland-DVD (Alice), Return of the Living Dead 4 & 5, opposite Christian Slater in the series premiere of Jerry Bruckheimer's hit show "The Forgotten" on ABC, and many spots in television programs and commercials. Most recently she worked on Left for Dead 2, and Disney's "Prom."
Join Keram, Aimee and their amazing friends on an odyssey through contemporary culture and what may be coming around the bend, in other words, the adventure of being alive in these modern times (occasionally with fresh music thrown in for good measure.)
Official Sites: